Brides looking for that perfect tan, flawless and natural looking, are well aware that the self-applied crèmes and lotions that they can rub on for a casual weekend is just not going to work for their big day. They want to look perfect for their wedding and many brides are now realizing that the way to get that flawless tan is through airbrush tanning.
Airbrush tanning is technically no different from spray tanning it's just that with airbrush a trained salon therapist will customize the tanning ingredients to provide the bride with a far larger choice of tan colors and depths. Also as the therapist is applying the tan layer by layer using an airbrush gun similar to a paint spray to apply the chemicals in a fine mist they can ensure a complete and consistent covering. This means that airbrush tanning is very precise as the therapist can apply more chemicals in some areas of the body to ensure that all over even tan.
Brides should start to trial tan about 6 weeks before the wedding so that they have plenty of time to check out their tan color, shade and depth before their dress fitting. Then they will see how their tan will need to be adjusted to match perfectly with the dress. Trialing the tan early also gives the bride time to check out her tan against the make-up trial. This will allow the makeup artist to create their designs using the correct skin complexion as the canvas. Radically changing the base color of the canvas will require a complete rework by the makeup artist so its best to get everything worked out in advance.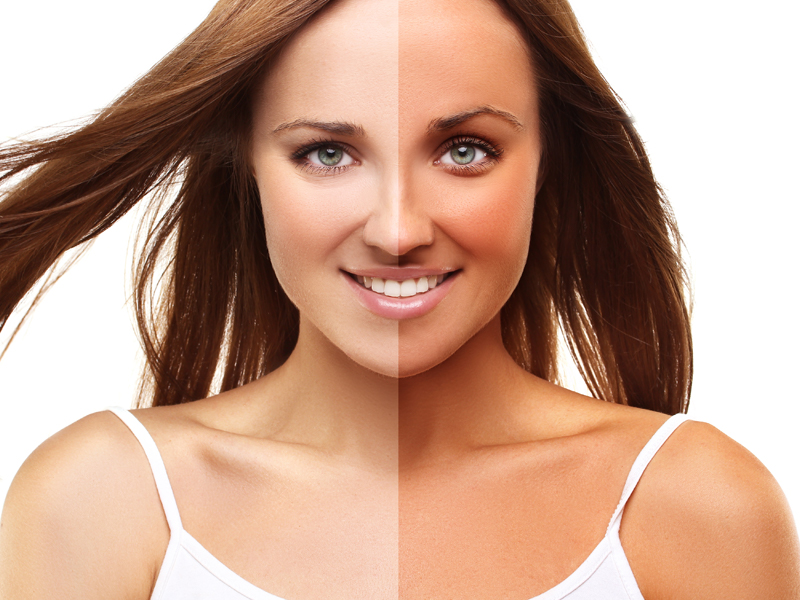 However it's not just airbrush tanning that brides are now flocking to use for their big day as many now are looking at using airbrush makeup to get that same flawless appearance. Indeed airbrush makeup was once mainly used in professional areas like film and TV. This is because it's long lasting and resistant to water from sweat or tears. It's perfect for photography. Indeed the higher definition the cameras have become, the more airbrush makeup has become to be seen as a necessity.
Airbrush makeup artists do not just spray on liquid versions of traditional makeup it's actually a silicon based makeup solution so that can sometimes limit the choice of shades and colors. However, where airbrush makeup works is that by building up fine layers the artist can create a very light foundation that is simply flawless. This is why it is so popular in photography and highly desirable to brides wanting to look perfect in their wedding photos.
To get that perfect porcelain complexion the makeup artist creates very fine layers of makeup that leaves the model feeling that they aren't wearing makeup it is so light. But it is also very durable so the makeup will last for hours and that makes it perfect for a wedding day.