The term 'Ghost Kitchen' was a buzzword even before COVID-19, but the term has amassed major attention from the hospitality industry during the pandemic.
What is a ghost kitchen?
Essentially, a ghost kitchen is a professional kitchen that only operates fro deliveries or take-outs. The other names given to ghost kitchen are virtual kitchen, cloud kitchen, and dark kitchen. So, the thing missing from a ghost kitchen is a dining area where customers can sit and eat.
Ghost kitchens started entering the hospitality industry in 2019 with the increasing popularity of food delivery apps like Uber Eats, DoorDash, and Grubhub. The demand for ghost kitchens has increased significantly since the outbreak of the COVID-19 pandemic as the lockdown forced people to order online. Gradually, ghost kitchens at this time are gaining momentum and may continue to rise in the future.
How does a ghost kitchen work?
Ghost kitchens operate in commercial food production facilities that are centralized and licensed. These facilities allow one or more restaurants to rent the space and prepare menu items for food delivery. Cloud kitchens may have one restaurant running multiple brands operating under the same roof, or the kitchen may run like an incubator being shared by different restaurants.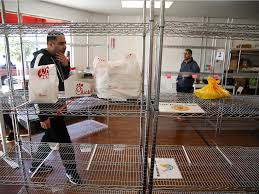 You can picture a ghost kitchen to be a large warehouse with a number of workstations or mini-restaurants with hood vents, sinks, ovens, stainless steel prep tables. These mini-restaurants offer delivery-optimized menus and receive direct orders from their customers. Ghost kitchens are usually located in industrial complexes with parking and waiting areas for drivers and check-in stations for order pick up.
What are the benefits of a ghost kitchen?
Running your restaurant using the ghost kitchen business model is proving to be advantageous for many restaurants. The benefits that ghost kitchen offers are the reasons for the huge adaptability of ghost kitchens. Here are some of the benefits of ghost kitchens:
Low startup costs
The cost of opening up a new restaurant is very high going beyond $600,00. The cost to open a new restaurant includes total startup cost, construction cost, kitchen and bar equipment cost, etc.
Ghost kitchens eliminate many of the initial costs involved in starting a restaurant. You can start your own restaurant in less than 60% space that you would require otherwise. Moreover, the ghost kitchen operators provide installed primary kitchen appliances. So, you only pay rent to use the little space that you work in and don't have to worry about costs related to dining arrangement, decoration, furnishings, etc.
Reduced overhead costs
You can reap the benefits of lean production by using ghost kitchens. Since you aren't providing a dine-in option, the basic expenses are eliminated. You also save on floor space as you operate in a smaller space. Moreover, you don't even require staff to handle the front-of-the-house, so you save on staffing costs. The only necessities you need to operate a ghost kitchen are permits, compliance with the food safety standards, and promoting your restaurant on digital platforms.
Reduced rent
If you operate a brick and mortar restaurant, you have to consider factors such as location and footfall which leads to higher rent in prime locations. In the long-run, the rent itself is a major expense for a restaurant. But ghost kitchens don't face this challenge.
As a ghost kitchen, you only require a small space to prepare the menu items for delivery. You don't have to rent spaces in a trendy location to attract customers and therefore, you can save a significant amount spent on rent.
Easier to meet delivery demand
During the COVID-19 pandemic, online food delivery demand has increased. With a full-service restaurant, food deliveries often tend to get delayed. However, with ghost kitchens, you can have streamlined workflows and meet the delivery demand easily.
Having no dine-in customers to cater to, you can focus solely on online deliveries.
Access to user data and adaptability
Ghost kitchens analyze consumer behavior to optimize orders, processes, and staff scheduling. Even the menu can be optimized to suit the demands of consumers. Moreover, you can change the menu or operating hours as per the business requirements as it will not impact customer satisfaction.
These changes can also help in the reduction of food waste and aid in smart prep decisions. Ghost kitchens also make it possible to launch a restaurant brand for a particular season.