Are you planning to buy a diamond ring for yourself or your loved ones? Do you want to buy it online but are reluctant? Read on to find out whether buying diamonds online is safe or not.
We have all been there. A stunning diamond ring on the internet has stolen your heart, but you do not know whether you should buy it or not. You try to find those designs in your local stores the next time you go to buy a diamond ring. Alas! You don't find the same ring or something even close to it. So, you settle with buying something else.
While the numbers of online shoppers for diamonds is increasing, many buyers are still sceptical about the idea of buying something as diamond rings from an online seller. Let us examine whether or not buying diamond jewellery online is a good idea or not.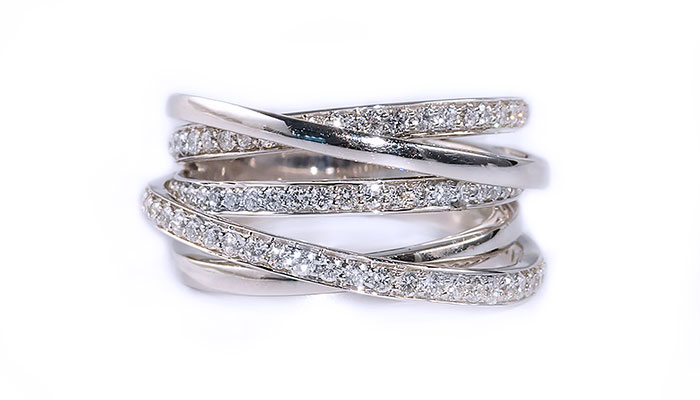 Pros of Purchasing it Online
There is an endless number of rings online in a wide variety of designs which gives you an opportunity to select the best diamond ring for yourself and your loved ones.
While buying online, you can find the exact kind of diamond you want in the exact cut, colour, carat, clarity, you want.
Online shopping helps you buy diamonds at more affordable prices than compared to brick and mortar shops.
The best perk is that buying your diamond ring is easy. From the comfort of your own home, browse through multiple designs, find one you like and buy! Within a few days, the jewellery is shipped right to your doorstep.
So if there are so many benefits that online shopping provides, why are many still reluctant to take this route especially when it comes to buying something as precious as jewellery.
Fears Buyers Have
The uncertainty of whether your diamond is real or fake is the biggest fear people face.
You are unsure if the diamond ring that will be delivered is the same one you ordered.
Since buying diamonds is an expensive affair, it is a risk when you buy it online. It especially becomes a risk when there is no or unfriendly return policy.
Being duped is another fear buyers have especially when buying an expensive piece of jewellery such as diamond and gold rings online. This particularly happens when the seller shows little or no information about the product being sold.
As buyers are not able to try the rings, they don't know if it's the right size for them.
Thus, while shopping online offers a lot of benefits, it comes with its own challenges that may stop many buyers from taking this route. However, with time, things are changing now. Online sellers have started realising the fears of buyers and are looking at ways to put their worries to ease. Today, online shopping is safe and secure provided you choose the right seller.
Things to Consider before Purchasing Online
A friendly return policy is the first thing you should look at when buying online. Is it just 7 days return policy or more than that?
The online company should provide 24/ 7 assistance through email, chat and telephone so that you can contact them at any time in any way which is comfortable for you.
While many companies have a return policy, some of them charge a restocking fee especially when it comes to jewellery. Thus make sure the online shop you choose, offers a 100% money back guarantee. This way, you ensure that your investment is absolutely safe.
Buying diamond rings online is much safer if you can get a lifetime guarantee for it. Diamond jewellery is expensive. Please ensure that the maintenance and repairs are also taken care of.
Make sure the online seller you are buying from gives a clear description of the diamond and the base metal used in the ring. From the weight of the diamond to the cut, colour, carat and clarity, every detail should be explicitly specified.
Make sure while buying you get the option of choosing the exact size of the ring so that you don't get the wrong size.
The Verdict
Thus buying a diamond ring from an online shop is 100% safe provided you choose the right seller that assures you of complete transparency and support.
Choose a trustworthy online shop and experience the benefits of online shopping to buy that perfect diamond ring for yourself or your loved one.